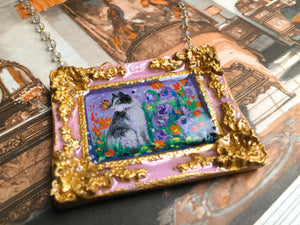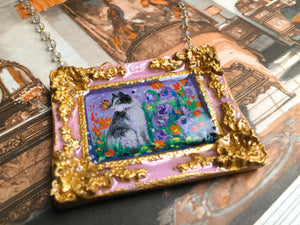 On Sale
"Borgo Kitty" Medallion - Original Miniature Painting On Gold Vermeil Crystal Quartz Chain - Original Painting
This is an original miniature painting inspired by a cat that lived on the beautiful tuscan grounds of Borgo Santo Pietro. I did an artist residency there back in 2016 and had the most exquisite Italian artist experience. 
I took some photos of one of the Borgo cats that was hanging out in the garden house one day as it sat next to potted flowers. 
The chain and necklace findings are sterling silver, gold plate (vermeil) adorned with quartz crystals. 
Chain measures 30 inches - This is a nice and long necklace.  
The actual medallion is fabricated entirely by me by hand in my studio over 7-14 days. I use only the finest of jewelers resin and metals. And also a little sparkly gold glitter. The piece is gilded in 24K Gold. 
A copy of the Medallion Commandments will be included in your package. Ready to ship!