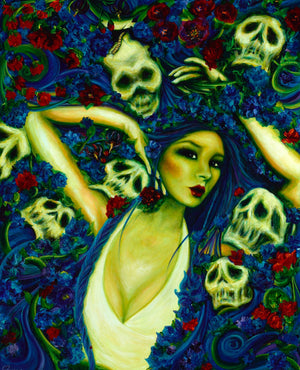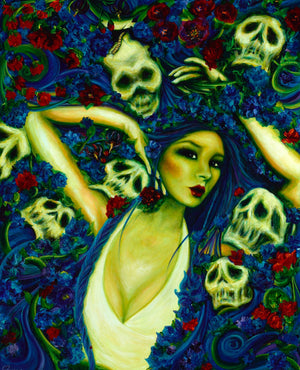 On Sale
Belladonna - Deadly Nightshade Unisex Sweatshirt
My Belladonna painting from 2012 adorns this beautiful all over print sweatshirt. The first of its kind in my shop, ever! Inspired by the Aztec Goddess of the Underworld, we see Belladonna basking in the skulls of the dead. She is protecting their bones so they may survive as they pass on into the after life. Surrounded in a bed of Deadly Nightshade flowers, she rests. 
Note: I recommend sizing up one or two sizes if you want a more loose, cozy fit!
This sweatshirt is crafted from a premium polyester and spandex blend, making it both comfortable and durable. Each panel is individually printed, cut and sewn to ensure a flawless graphic with no imperfections. And high definition printing makes these a pleasure to wear for all occasions.
• 95% polyester, 5% spandex
• Soft handfeel
• High definition printing colors
• Design will never peel, flake or crack
• Two-way stretch fabric

Because it's handmade for you, these sweatshirts require 4-8 business days before they are shipped. Orders placed before midnight will be included in the following day's batch for manufacturing.
| Inch | XS | S | M | L | XL | 2XL | 3XL | 4XL |
| --- | --- | --- | --- | --- | --- | --- | --- | --- |
| Length | 27 ½ | 28 ¼ | 29 | 29 ¾ | 30 ½ | 31 ⅝ | 31 ¾ | 32 ½ |
| Width | 21 | 22 | 23 ¼ | 24 ½ | 25 ¼ | 26 ¼ | 27 ¼ | 28 ¼ |
| Centimeters | XS | S | M | L | XL | 2XL | 3XL | 4XL |
| --- | --- | --- | --- | --- | --- | --- | --- | --- |
| Length | 69.9 | 71.8 | 73.7 | 75.6 | 77.5 | 80.3 | 80.6 | 82.6 |
| Width | 53.3 | 55.9 | 59.1 | 62.2 | 64.1 | 66.7 | 69.2 | 71.8 |