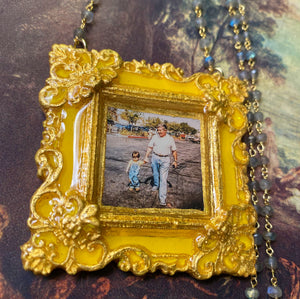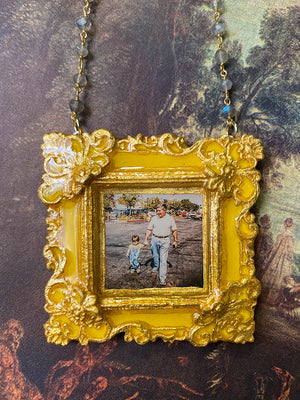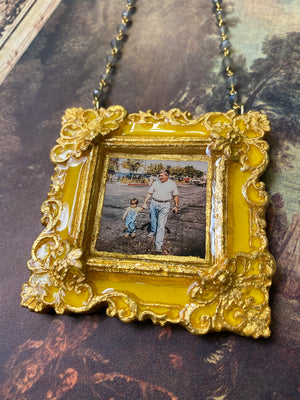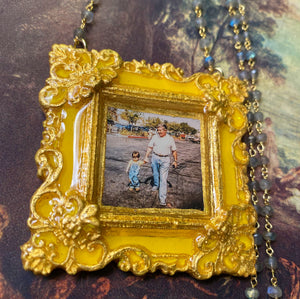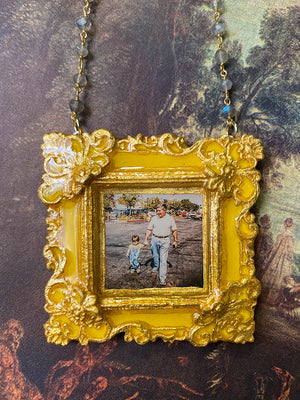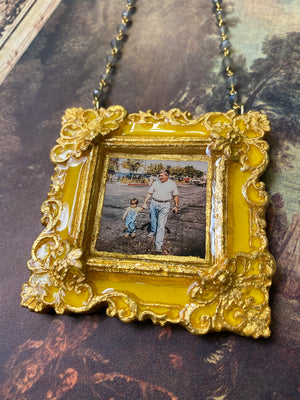 On Sale
Custom Keepsake Photo Medallion of Your Loved One - Keepsake Medallion
This is something new I've started doing. Now you can order a custom medallion that features your favorite photo of a loved one. The medallion you see here features a photo of a collector when he was little walking hand in hand with his grandfather. 
It's made of fine jewelers resin, 24karat gilded gold, sterling silver components and a gold vermeil chain with the crystal of your choice.
You choose the color, any color you like for the medallion. You can let me know once purchased what color you'd like. (The color of the featured medallion in these photos is  yellow. The chain features labradorite stone). 
These take 6-8 weeks to make. 
please not again this is not for a painting of a photo  this is for an actual photo inside the piece. To order a painting & medallion commission you can email here on the site at Laurene@Laurenetheartist.com
I will keep in touch with you as I create your piece and when the time comes, I will send you photos of your medallion alongside different chain options so you can see what it will actually look like. 
Vermeil chain options are amethyst, onyx, turquoise, quartz, carnelian, labradorite, pyrite, garnet and more depending on stone availability. 
I like to keep in touch with collectors via email and Instagram and will send you photos and short videos along the way as I make your piece. 
Any questions you may have, you can write me at Laurene@Laurenetheartist.com
Please tag me as well if you post yourself wearing it! And email me photos if you'd like to be featured under Collector Appreciation here on the site. 
Thank you,
Laurene Alvarado